The final quarter of 2022 is just around the corner! As we enter another autumn here in New England, we wanted to take a moment to share a few important environmental services updates and highlight our amazing team.
Celebrating Our Couriers
We are fortunate to have a courier team of dedicated, professional, and outstanding individuals—several of which have been with EAI close to 20 years. Remarkable, since they are all retirees!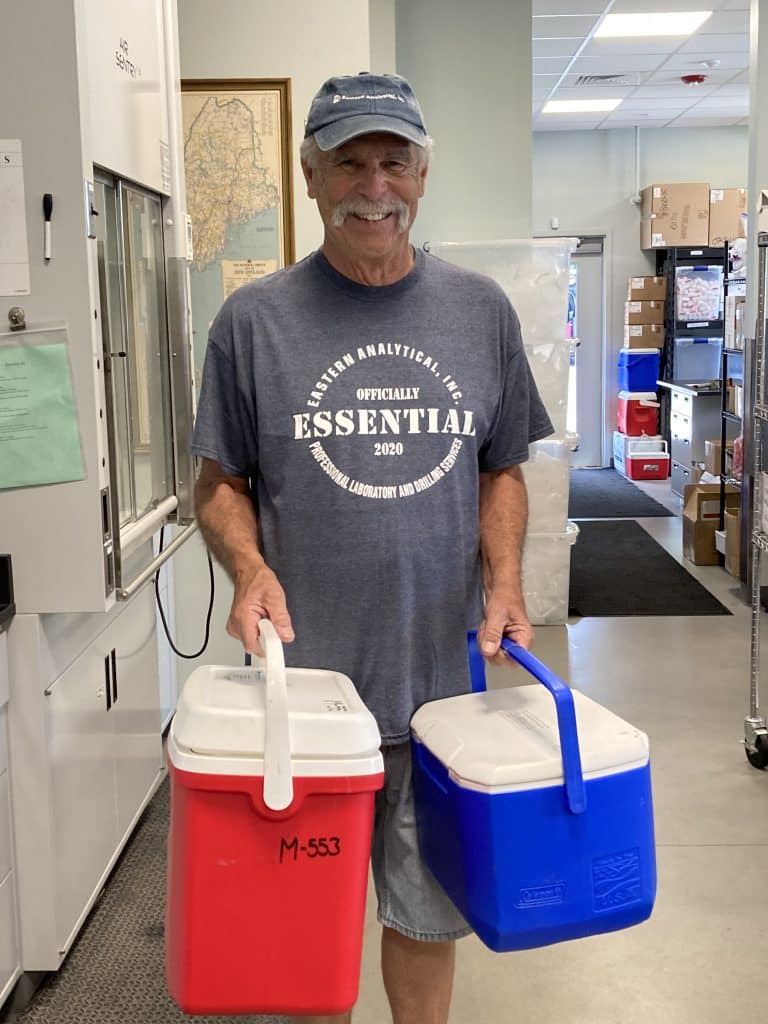 Each of our couriers participate in an extensive training program when hired, reviewing proper sample transport protocol and procedures to ensure regulatory compliance. They travel throughout New Hampshire, Vermont, Maine and Massachusetts to meet the sample pick-up and bottle kit drop off needs of our customers.
Our couriers are the best and we thank them all for taking such good care of our customers! Need to schedule a sample pick-up or bottle kit drop-off? Call us at 1-800-287-0525 or send us an email.
About Chain-Of-Custody Forms
Since the chain-of-custody (COC) is a legal document—and a vital means by which to communicate your analytical needs to the laboratory—it needs to be completed in full when submitting your samples. We offer several COC options to help simplify and save you time. Choose from four delivery options to meet your specific needs—check them out here.
Updated Sample Turnaround Times
Consistent and reliable, our turnaround time options will help keep your project on schedule!
5-10 Business Days: Standard. No additional notice required.
<5 Business Days (Rush): Typically available. Advanced notice and lab approval is needed prior to sample arrival to ensure request can be met.
Specific Date Needed: Write the delivery date needed in the designated space on the project chain-of-custody (COC).
Regulatory & Technical Updates
Manganese in Drinking Water

The New Hampshire Department of Environmental Services (NHDES), Drinking Water and Groundwater Bureau is proposing to establish procedures for administering an enforceable standard of 0.3 mg/L for manganese in drinking water. The new rules are expected to be adopted and would go into effect on January 1, 2023.
Refer to your water system Master Sampling Schedule (MSS) to view the manganese testing schedule. Contact Jacqueline Howarth, NHDES Drinking Water & Groundwater Bureau, with questions by calling (603) 271-2854 or emailing jacqueline.f.howarth@des.nh.gov.
New Hampshire House Bill (HB) 1421, "Lead in Drinking Water in Schools and Licensed Child Care Facilities," decreases the allowable level of lead from 15 parts per billion (ppb) to 5 ppb. Required testing must be completed and reported to the state by June 30, 2024.
Trip blanks play an important role in the quality assurance of volatile organic analysis, allowing for the documentation of contamination attributable to sample transport and site conditions. It is important that the trip blank, VOC vials, and cooler remain together at all times until received by the laboratory for analysis. Trip blanks are available and included in EAI bottle orders upon request.*
*Reminder: the NH ODD FUND program allows trip blanks as a chargeable item if 3 samples or less are submitted.
Keep Track Of Sample Collection Data
Keep crucial sample collection information (including sample preservation, volume, container type, hold times, and more) at your fingertips. Download the EAI Technical Reference card today!
Download your copy of our upgraded Technical Reference Card here.