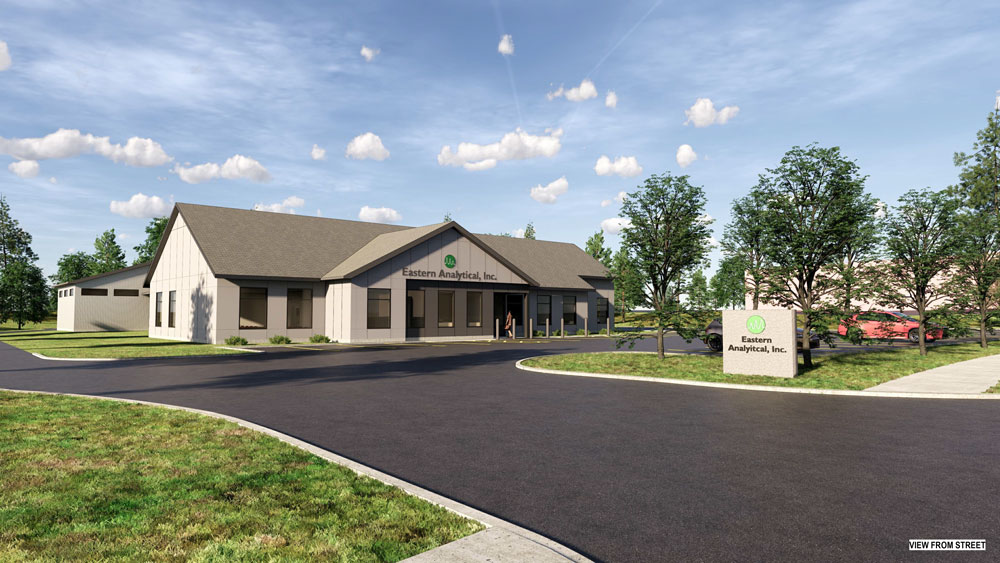 Construction of our new laboratory is right on schedule thanks to a mild winter and the phenomenal effort by our construction team. The transformation from a drawing on paper to a completely enclosed building in such a short period of time is truly remarkable.
Following a well thought out detailed design has helped the process along. Our architects, Lavallee Brensinger, were up for the challenge when asked to design our state-of-the-art energy efficient laboratory. Our construction management firm, Conneston Construction, Inc., have taken the baton and are constructing not only office space for  a typical commercial building but skillfully combining with specifications needed to accommodate an environmental sample testing lab such as hoods and lab casings. Oh, and a huge garage to house the drill rigs and large pieces of drilling equipment. This is a one-of-a-kind design and build which makes it even more impressive that it is currently on track for completion late-summer as planned!
One of the benefits of building our new lab literally right around the corner on Antrim Ave is employees have a chance to readily check out how things are coming along on the way into work or during daily walks at lunchtime. It can be difficult to visualize how things are going to be but the Eastern Analytical team has had the chance to be an active part of the process seeing our new workplace/lab/home come to life almost on a daily basis. We have a greater appreciation for all of the work that goes into such an undertaking.
Keep an eye on the EAI website as we will continue to update photos as the build progresses and we get closer to a move-in date. Stay tuned!
The Eastern Analytical Team